Information
Highest standards in design, engineering, and quality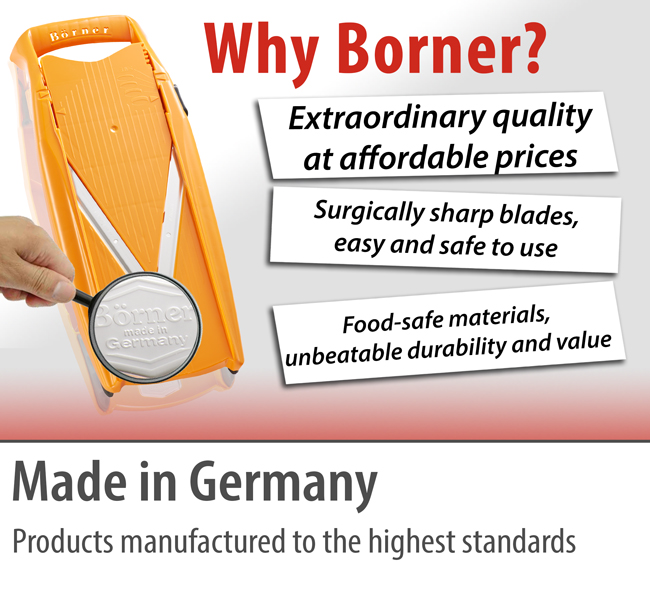 For 60 years, Borner has been designing and producing premier quality kitchen tools that make preparation of vegetables and fruits fast, safe, and healthy. Whether peeling, slicing, or cutting fresh vegetables, grating fruits or spices, or squeezing fresh juices, all of Borner's hand tools for the kitchen live up to the reputation for high quality and value of products "made in Germany."
Borner slicers, peelers, graters, and juicers are durable, innovative kitchen aids designed to last. The stainless steel blades of the patented V-slicers are micro-ground to a level of surgical sharpness; with proper use, these blades remain extremely sharp for years. Ease and safety of use are built into Borner tools, with clear and specific guides for each. All dyes used in Borner's products are food-safe, and the plastics are BPA-free.
At its factory headquarters in Niederkail (Rhineland-Palatinate, Germany), 70 employees continue to design, refine, and produce high-quality Borner products.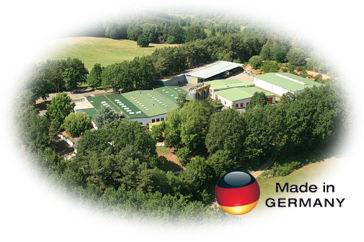 All stages of production, from product design to manufacture and shipping, take place in-house, ensuring that each step is quality-controlled and monitored, with the optimal results that maintain Borner's reputation worldwide. An ISO-9001 certified company, Borner has been focused on innovation, superior quality, and impeccable customer service since 1956.
With the company's products available in over 50 countries on every continent, Borner's mission is to "Change your life" by offering fast, safe tools for you and your family to adopt a healthier lifestyle.Fast, safe, and healthy: the Borner experience in your kitchen!
Borner products are completely designed, engineered, and "made in Germany" by our team of experts at Niederkail. For over half a century, our company's tradition has been the passionate search for the best design, quality, and ease of use for our customers. Particularly in the development of our V-slicers, we have reached the premier level of performance and durability, a fact many food preparation experts confirm. Under normal conditions of proper use, our products will last for decades.
Mit einem dichten internationalen Netz an Vertriebspartnern ist Börner in über fünfzig Ländern auf allen Kontinenten vertreten und setzt sich mit der Verbreitung der Botschaft "Change your life!" für das Bewusstsein um die Bedeutung einer gesunden Ernährung ein. Denn mit den Original Börner Küchenhobeln und Gemüsereiben lässt es sich einfach, schnell und gesund leben.